The Pear Tree Delicatessen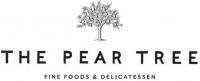 Freshly baked Sausage Rolls, Pasties, Slices, Cakes, Fresh Bakes and Bread
The Pear Tree Fine Foods and Delicatessen
Based in Ammanford, using the finest locally sourced meats and produce we pride ourselves on making the greatest Savouries, Cakes and Bakes. 
Our ranges include Beastly Porky Sausage Rolls in a variety of flavours, The Pear Tree Big One Cornish Style Pasties, to delicately Flavoured Fruited Tarts and Freshly Baked sourdoughs.

Why not have a sneak preview of our range on Facebook and Instagram, although please be warned...... hunger pangs are likely!