Ruby Anne Ceramic Jewellery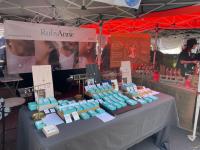 Ruby makes porcelain and ceramic jewellery. With vibrant colours and clean lines, each piece is a beautifully detailed contemporary design.
Visit Website
From her studio in South Wales, close to the Gower coast, Ruby makes original and unique porcelain and ceramic jewellery. Each piece is formed by hand, then glazed and fired using a variety of techniques. Locally sourced, high quality materials are used and crafted to a high level to create beautifully detailed one of a kind pieces.