Riverside Sourdough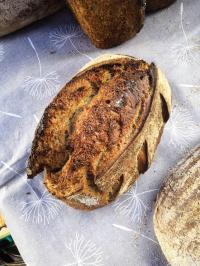 We sell sourdough and long-fermentation bread. The type of bread we are selling is this: rye, wheat, San Francisco, low gluten, spelt and many more.
Visit Website
We are a small bakery based in Cardiff, baking speciality Sourdough and other Real Breads. The bakery started life as part of Hungry Planet Wholefoods, selling freshly baked breads in stores and at local markets, as well as supplying cafes across the city with freshly baked Sourdough.

When the Hungry Planet co-operative disbanded in Spring 2013, Mark kept the bakery alive and relocated to Embassy Cafe at Cathays Comunity Centre.

We now bake bread through the week to sell at local markets and supply local cafes.