Fruity Spectacular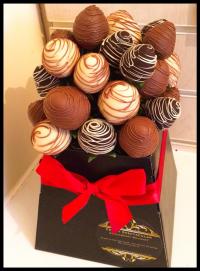 Chocolate dipped goodies.
Visit Website
A range of homemade gourmet marshmallows, as well as different Belgian chocolate covered fruits, and also making waffles with different toppings.

At Fruity Spectacular our aim is to offer a new and exciting concept in gift giving.

Our philosophy is to create unique, freshly prepared and tasty edible bouquets and arrangements suitable for any occasion ranging from wedding parties, corporate events, happy birthday, get well, new baby, client gifts and so much more.

All of our bouquets and arrangements are individually designed, and are made fresh to order using only the freshest of fruit, and the finest Belgian chocolate.

The driving force behind Fruity Spectacular is Alannah Jones who uses her creative ability to bring enthusiasm and passion for bespoke gift giving at Fruity Spectacular.