Friendly Fudge Company (The)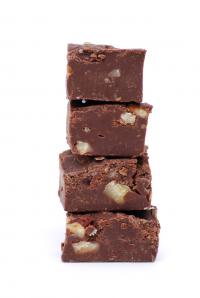 Artisan chocolate fudge in a variety of delicious flavours. Fudge bags, gift boxes, wedding/party favours & fudge of the month club. Very moreish!
Visit Website
We love our artisan chocolate fudge, and think you will too! The Friendly Fudge Company is a small family business, run from our kitchen in the heart of the Carmarthenshire countryside. Our fresh, melt-in-the-mouth, crumbly chocolate fudge is made in small batches from the finest natural and fair trade ingredients, and wrapped in simple, attractive eco-friendly packaging. Using traditional methods, we cook, cut and wrap our fudge batches by hand (ok, we admit to using a blender, but really, who wouldn't?) Our chocolate fudge comes in a variety of fabulous flavours, including popular year-round favourites such as Walnut, Coconut, and Peanut Butter, while our 'celebrate the season' flavours, such as Lavender or Rose, are only available for short periods. Described as gorgeous, yummy, very moreish and 'Mmmmm', Friendly Fudge makes the perfect special treat or gift. Available in fudge bags, gift boxes, wedding/party favours, and our Fudge of the Month Club, there's something for everyone. We're a very friendly bunch, and love to attend local Markets & Food Festivals, where we can give away free samples and chat happily to our customers. If you're lucky, you might also find The Friendly Fudge Company in your favourite deli, shop or cafe. We'd love to hear from you, so please come and say hello when we're out and about, or contact us via the website, Facebook, email or telephone.