Cakedly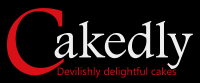 Cakes for grown-ups. Try a wide range of our own wonderful recipes - sponge cakes, lighter than light cheesecakes and our famous natural fruit mousse dessert cakes. Locally sourced ingredients ensure your cake looks incredible and tastes amazing.
Visit Website
Cakedly is a unique cake experience for grown ups. 

Our cakes blend the very best European and British recipes to create a unique cake that you will not find anywhere else. Every Cakedly cake is a visual treat that's packed full of flavour.

We bring a range of our cakes to every market: Our patisserie style mousse dessert cakes - chocolate, raspberry and orange – are always extremely popular. Our exceptionally light cheesecakes with delicate vanilla and chocolate flavours are like no other. And, so the kids don't feel too left out, we always bring our amazing looking and tasty Wild Zebra cake.

Where possible we use Welsh products, including raspberry jam and raspberry infused syrups from raspberries grown in my own garden in Carmarthen.

We also have a range of cakes available online at www.cakedly.com suitable for events, celebrations and parties. Most of these cakes can be made with an alcohol infusion to accentuate a deeper flavour and add velvety richness to the cake – perfect for entertaining your friends.